Modern dosing systems with data capture for automatically supplying and monitoring washer-disinfectors are a prerequisite for safe process management, validation and permanently optimal cleaning results in instrument reprocessing or when cleaning laboratory glassware and utensils.
Dr. Weigert offers optimal designs for:
process-oriented analysis and weak point determination
central and distributed systems for the metering and controlling of cleaners and disinfectants
weigomatic DOS Manager and weigomatic Data Management for the collection and transmission of important operating and process data
mixing equipment for preparing and spraying ready-to-use detergent and disinfectant solutions
Central dosing units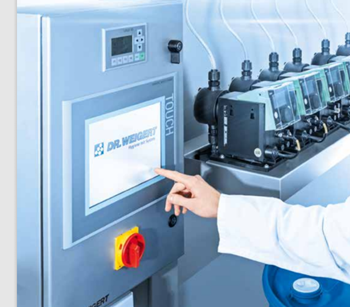 Central dosing units supply multiple washer disinfectors (WD) with liquid process chemicals in larger washing units. The installation of the systems can take place irrespective of the location of the washer disinfector. The use of large containers makes application not only more economical, but also very user-friendly with regard to industrial safety. Awkward handling of canisters is eliminated and dosing takes place in closed systems! The modular weigomatic® principle combines individual solutions with an exceptional degree of flexibility and a wide range of retrofitting options. We will design the optimal dosing unit to suit your needs!
weigomatic data management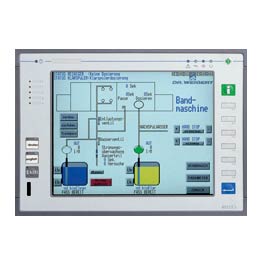 weigomatic data management integrates important quality aspects into the cleaning and disinfection process.

All relevant data such as running times of washer disinfectors and amounts of water and detergents/disinfectants used are continually recorded and documented via the data storage unit. This data can then be clearly displayed on a computer
or the touch panel, can be viewed and evaluated from the desktop, and analysed or assessed locally or on the Internet.

This guarantees the highest degree of efficiency and early error and fault detection – a must for all validated processes and for optimised process
reliability.
weigomatic DOS Manager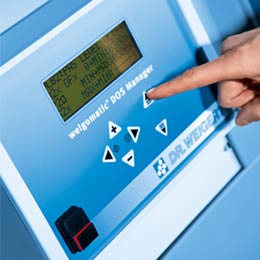 weigomatic® DOS manager is a combined dispensing and monitoring system for managing the dosage of liquid process chemicals via weigomatic® buffer tanks in washer disinfectors. The integrated memory unit permits the continuous collection of specific operational data, such as quantities used and periods of operation – which can be clearly evaluated and documented on a computer. Early fault detection ensures cost-effective operation and excellent process reliability.
weigomatic identSYSTEM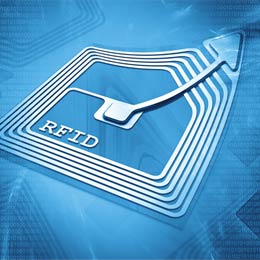 The system enables automatic touchless product identification which prevents mix-ups. Therefore, the system not only ensures intuitive handling when changing product containers but first and foremost guarantees an absolutely reliable start of a successful cleaning and disinfection process. The operating principle is ingeniously simple and is based on the consistent use of RFID technology (Radio Frequency Identification).
Containers fitted with weigomatic® RFID transponder are individually coded. The transmitted signal is read by a receiver fitted on the dosing station. This ensures that the correct process chemical is used. The automatic dosing of process chemicals is activated and all quality-relevant data and parameters which are important for the cleaning process are recorded, such as e.g. time and cycle of the container exchange as well as batch number and use-by-date of the process chemical.
weigomatic system ALPHA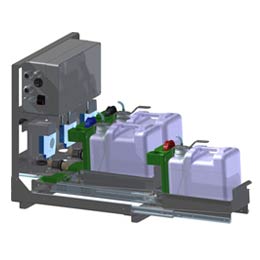 The component dosing system specially developed to dose highly concentrated process chemicals for optimised automated instrument reprocessing. The individual dosing of the two process chemicals neodisher® SystemAct and neodisher®
SystemClean revolutionises the cleaning process. Innovative space-saving dosing technology with maximum process safety and an optimised cleaning step at once. Optionally, the rinse aid neodisher® SystemRinse can be dosed as a third component. The system is fitted with RFID technology.
weigomatic Drumtainer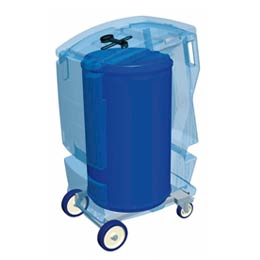 The weigomatic Drumtainer is a transportation and storage system for drums and the
ideal solution for easy handling when it comes to changing and storing drums at the dosing
station, meaning a drain tub is no longer needed in the dosing room.

The drum itself remains in the weigomatic Drumtainer the whole time it is in use, and the Drumtainer is
also approved as a drain tub.* Thanks to its four wheels, the weigomatic® Drumtainer is
very manoeuvrable, making lifting or transferring drums a thing of the past. Storage and
transportation are also easy and safe, without the need for any pallet jacks or forklifts. The
tilted base enables you to use every last drop in the drum. Coloured lids prevent product
mix-ups, while the external labels and safety notices also aid easy identification
weigomatic endoDOS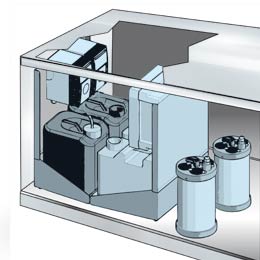 The weigomatic® endoDOS system offers an absolutely safe, impeccably hygienic and economical dosing method when using one or more washer disinfectors for flexible endoscopes (WD-Es). The process chemicals are dosed via compact weigomatic® buffer tanks which guarantee a continuous supply of the WD-Es and ensure that no air can be sucked into the dosing lines. As a result, it is possible to drain all remaining detergents and disinfectants from the container without any interruptions to dosing, and also means no more decanting of residual amounts. This procedure guarantees optimum personnel safety and a lower environmental impact. Various canister and dosing lance shapes prevent a mix-up of process chemicals. By supplying the weigomatic® buffer tanks via a central dosing station, a clear interface is created between the dosing unit and the WD-Es as a medical device.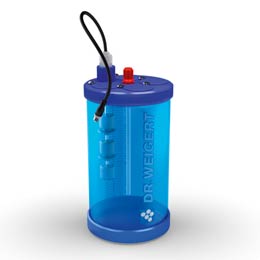 neomatik mediDOS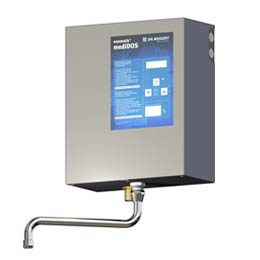 The microprocessor-controlled dosing device serves to produce ready-to-use detergent and disinfectant solutions from liquid concentrates for manual application. The mixing device with a robust stainless steel casing for wall mounting can be easily operated and features an automatic switch-off in the case of product depletion as well as fill level monitoring.
neomatik® mediDOS complies with the RKI recommendations for decentralised disinfectant dosing devices.*
*Requirements concerning design, properties and operation of decentralised disinfectant dosing devices, Bundesgesundheitsbl - Gesundheitsforsch - Gesundheitsschutz 2004 · 47:67–72
Dosing technology and plant engineering - We offer the best mix!
Dosing Equipment for Disinfectants
To produce ready-to-use solutions of cleaners and disinfectants from concentrates, we offer mixing equipment: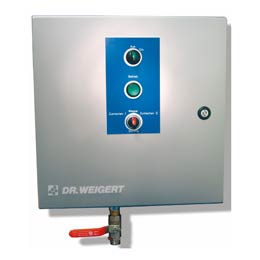 neomatik SGW 2 / SGW 1
Mixing equipment for the manufacturing and spraying of ready-to-use cleaner and disinfectant solutions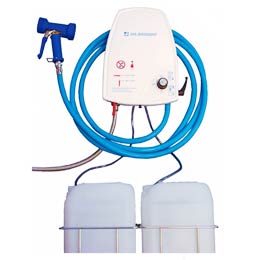 neomatik WSG 2
Stationary wall spray unit for the manufacturing and spraying of ready-to-use cleaner and disinfectant solutions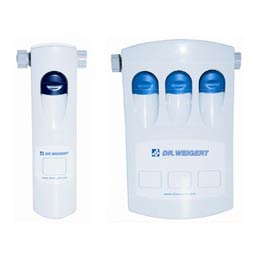 neomatik ZMW 1 / ZMW 3
Mixing equipment for the manufacturing of ready-to-use cleaner and disinfectant solutions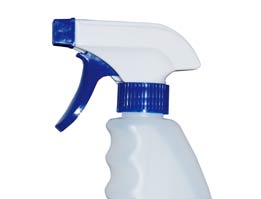 Sprayer
Sprayer for neoform® Rapid and neoform® MED rapid
Art.-No.: 950007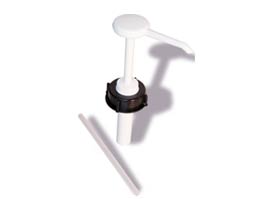 Presswised dispensers and canister pumps
Presswised dispensers for 1 l bottles triformin® wash and triformin® wash pure
Art.-No. 9802 00
Presswised dispensers for 0.5 l bottles triformin® wash and triformin® wash pure
Art.-No. 9802 03
Presswised dispensers for 0.5 l bottles triformin® care and triformin® protect
Art.-No. 9802 02
Canister pump for 5 L, 10 L and 12 kg canisters (30 ml stroke)
Art.-No. 980701
Canister pump for 20 L, 20 kg and 25 kg canisters (30 ml stroke)
Art.-No. 980700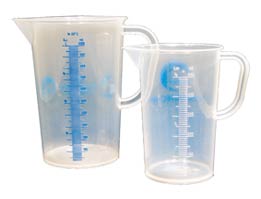 Dosing and measuring beakers
Dosing spoon, 34 ml
Art.-No. 950010
500 ml measuring beaker, graduated
Art.-No. 980106
1,000 ml measuring beaker, graduated
Art.-No. 980100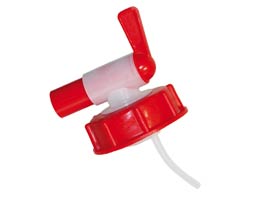 Outlet tap
Outlet tap for 5 L, 10 L and 12 kg canisters
Art.-No. 980004
Outlet tap for 20 L, 20 kg and 25 kg canisters
Art.-No. 980003
Outlet tap for drums
Art.-No. 980002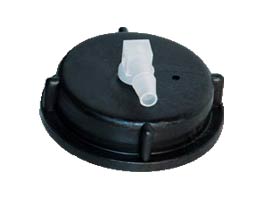 neodisher® OXIVARIO outlet tap
for the connection of neodisher® OXIVARIO (5 L canisters) to Miele washer-disinfectors
Art.-No. 981012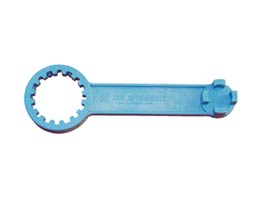 Canister and Drum key
Canister and Drum key
Art.-No.: 981007
Dosing and application ancillaries for drums
Drum funnel
Art.-No. 980311
Hand lever pump for drums
Art.-No. 980308 and Art.-No.: 980309
Drum wedge, for optimal draining of drums by tilting
Art.-No. 980312
Drum trolley
Art.-No. 980310
Drain tub for two drums
Art.-No: 076390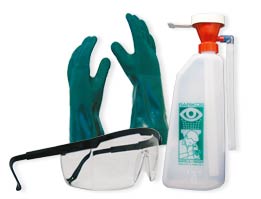 Personal protective clothing
Protective gloves
Art.-No. 988005
Protective goggles
Art.-No. 988006
Storage box for personal protective equipment
Art.-No.: 988008
Our competence encompasses all elements of a hygiene concept from requirement analysis to implementation and quality assurance. Suited to your specific requirements we take care of the practice-oriented implementation.
More details