Dr. Weigert – responsibility for the environment
As a developer and manufacturer of cleaning agents and disinfectants, we feel particularly obliged to apply maximum environmental awareness to our production and our products themselves. We take this responsibility very seriously in the context of an economically and environmentally oriented corporate philosophy and culture.


This naturally includes compliance with all relevant environment-related regulations. After all, companies that choose Germany as a production location for cleaning agents and disinfectants are automatically subject to very stringent environmental requirements. In many areas, the legally required standard is actually exceeded. In this respect, the company naturally also meets all criteria for certification under DIN 14001/Environmental management systems. But that is not enough: In many areas of production, building management, energy recovery and recycling, Dr. Weigert is obliged to submit results which show that environmental protection and preservation are pursued on a long-term basis.
The Dr. Weigert sustainability-brochure
Dr. Weigert sustainabilit­y-brochure
(PDF file - 2.140 KB)
Here are a few examples:
Numerous additional pipes specifically for certain products significantly reduce the
amount of the required rinsing water.
70% heat recovery in the laboratory's ventilation system.
State-of-the-art fire water retention systems for safety in the case of an emergency.
Chemical-resistant, sealed surfaces throughout the production area prevent hazardous substances from contaminating the ground water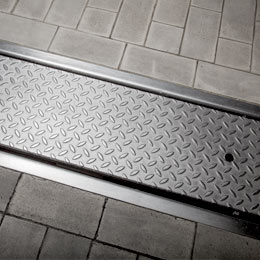 Chemical-resistant, sealed surfaces throughout the production area prevent hazardous substances from contaminating the ground water
Planting trees for the climate
All of our actions leave traces on our planet.
Whether it's mobility, consumption or food – almost all areas of life have an impact on our personal CO2 footprints.
Dr. Weigert wants to do its bit for the environment and going forward – instead of sending gifts to trade and business partners – the company will plant trees (or have them planted) to make a contribution to nature and climate protection. Recipients will receive a personal certificate for a tree gift. Specifically, for an English Oak to be planted in Schleswig-Holstein.
After all, trees store CO2, provide a habitat for countless animals and plants, filter the water and air, supply the sustainable raw material wood, and offer protection against floods, avalanches and mudslides.
Environmental management DIN EN ISO 14001
The ISO 14001 focuses on continuous improvement with regard to the environmental performance of an organisation. In this framework the data of the input-output balance of the Chemische Fabrik Dr. Weigert show that the impact on the environment is lower in comparison with other areas of the chemical industry.
(PDF file - 316 KB)