Hygiene safety and environmental friendliness – at Dr. Weigert, the two go hand in hand.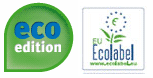 At Dr. Weigert, we are constantly working to optimise the quality of our products and services. One result of this commitment is that we can offer hygiene solutions that are totally efficient yet also environmentally friendly and sustainable. That's why you will find more and more Dr. Weigert products with the EU Ecolabel. At Dr. Weigert, we have put these products under the eco edition label – proven efficiency combined with environmental friendliness.
neodisher BioClean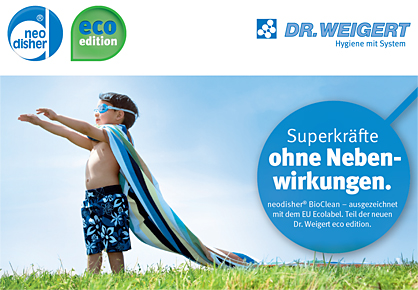 Detergent, liquid concentrate, non-harzardous fomula
We are aware of the special responsibility that we have at Dr. Weigert with our products. For this reason, we are uncompromising in terms of hygiene safety at Dr. Weigert, even when our products have attained EU Ecolabel status. Consequently, our "eco edition" products excel in two more respects – sustainability and effectiveness / performance.
The Dr. Weigert company brochure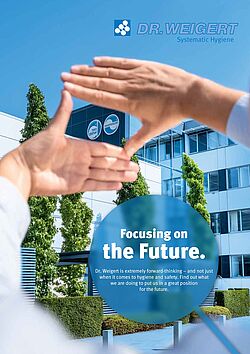 Find out what else Dr. Weigert is doing on environmental matters and how you can benefit from this.
The Dr. Weigert company brochure
(PDF file - 2.98 KB)