Coronavirus SARS-CoV-2 (Covid-19)
What are coronaviruses?
Coronaviruses occur in humans but also in numerous mammals and birds. In humans they cause gastro-intestinal diseases and flu-like illnesses up to pneumonia. Coronaviruses are enveloped lipid-containing viruses.
Coronaviruses include the SARS virus, which caused epidemics in 2003, and MERS-CoV, which led to 38 deaths in the Middle East in 2012/13.
The novel coronavirus, SARS-CoV-2 (COVID-19) Occurrence and transmission
Studies show that infectious virus can be isolated from the throat and lungs. No infectious viruses are detected in stool, urine and blood.
This confirms the assumption that the main transmission route is droplet infection and aerosol transmission. Further transmissions can also occur via contaminated objects (smear infection).
https://www.who.int/emergencies/diseases/novel-coronavirus-2019
Therefore, besides personal hygiene rules and keeping distance, hand and surface disinfection are the most important disinfection measures.
Hygiene tips for preventing infection in everyday life
Hygiene tips for preventing infection in everyday life (e.g. with coronaviruses, cold viruses or flu viruses):
Wash your hands and keep them away from your face
Wash your hands with soap for 20 to 30 seconds many times each day.
Avoid touching the mucous membranes of your mouth, nose and eyes.
Cough and sneeze hygienically
Keep your distance from other people when coughing.
Ideally, cough and sneeze into the crook of your elbow.
Blow your nose
Always use disposable tissues, then dispose of them and wash your hands immediately afterwards.
Ventilate regularly
Ventilate rooms for around ten minutes three to four times every day.
Protect yourself and others
Refrain from shaking hands, hugging and kissing people as you greet them.
Effectiveness of Dr. Weigert disinfectants against coronaviruses
Disinfectants with the efficacy against enveloped viruses, limited spectrum virucidal or virucidal are effective against corona viruses. The following Dr. Weigert products can thus be used preventively.
Disinfecting and decontaminating hands
Surface disinfection
neoform K dis
neoform MED AF
Instrument disinfection
neodisher Septo PreDis ZP
neodisher Septo PAC
neodisher Septo GDA
When using the products, at least the application conditions for activity against enveloped viruses must be selected!
Treatment of dishes and cutlery does not require any alterations. They can be cleaned as usual with temperatures above 60 °C, since SARS-CoV-2 virus is relatively sensitive to high temperatures. An additional measure could be transportation of the wash ware to the dish washer in closed containers.
Further useful links updated daily
Dr. Weigert – information about disinfection
Below, you will find some information and materials on the topic of disinfection that may also be useful in the context of the COVID-19 pandemic.
Tutorial – hygienic hand disinfection in six steps
Our tutorial for hygienic hand disinfection in six steps. Proper hand hygiene protects against infection and prevents the transmission of pathogens such as the SARS-CoV-2 coronavirus. For reliable hand-disinfection, it is necessary to keep your hands moist with the disinfectant for at least 30 seconds.
Information poster – the six steps of hygienic hand disinfection
Suitable for printing and putting on display at your company premises. On this poster, we show the six steps of hygienic hand disinfection (standard rubbing method in accordance with EN 1500).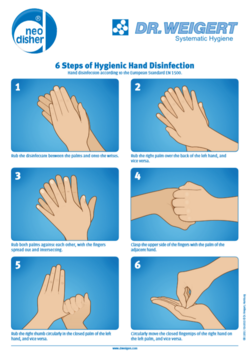 6-Steps-of-Hygienic-Hand-Disinfection.pdf
(PDF file - 462 KB)